Digital assets: Your views on a new legal framework
Public consultation event
You are invited to our virtual public consultation event, Digital assets: Your views on a new legal framework, which will provide members of the public with an opportunity to discuss the Law Commission's digital assets consultation paper.
We are seeking written responses from as many consultees as possible before 4 November 2022. This event is taking place during our consultation period to stimulate discussion and debate which we hope will help in the preparation of written responses.
You can submit a written response here.
Date and time 
Wednesday, 26 October 2022
16:00 – 17:00 BST
How to register 
This is a virtual event, open to all. Once registered, further information on how to join the online consultation session will be circulated closer to the event.
SIGN UP: Register for the event using this link.
Digital assets: what do we propose? 
Digital assets, which include crypto-tokens — sometimes referred to as cryptocurrencies — and non-fungible tokens (NFTs), play an increasingly important role in modern society.
The emerging technologies are used for an increasing variety of purposes, including being valuable in themselves, used as a form of payment, or used to represent or be linked to objects or rights, such as equity or debt securities.
The Government asked the Law Commission to review the law on digital assets, to ensure that it can accommodate them as they continue to evolve and expand.
Our proposals, published in July, aim to deliver wider recognition and legal protections for digital assets, allowing a more diverse range of people, groups and companies to interact online and benefit from them.
In our consultation paper, we examine how existing personal property law does — and should — apply to digital assets. The consultation paper argues that the law must go further to acknowledge the unique characteristics of digital assets, which make it difficult to fit them into current private property law categories or definitions. This recognition would provide a strong legal foundation for the digital assets industry and for users.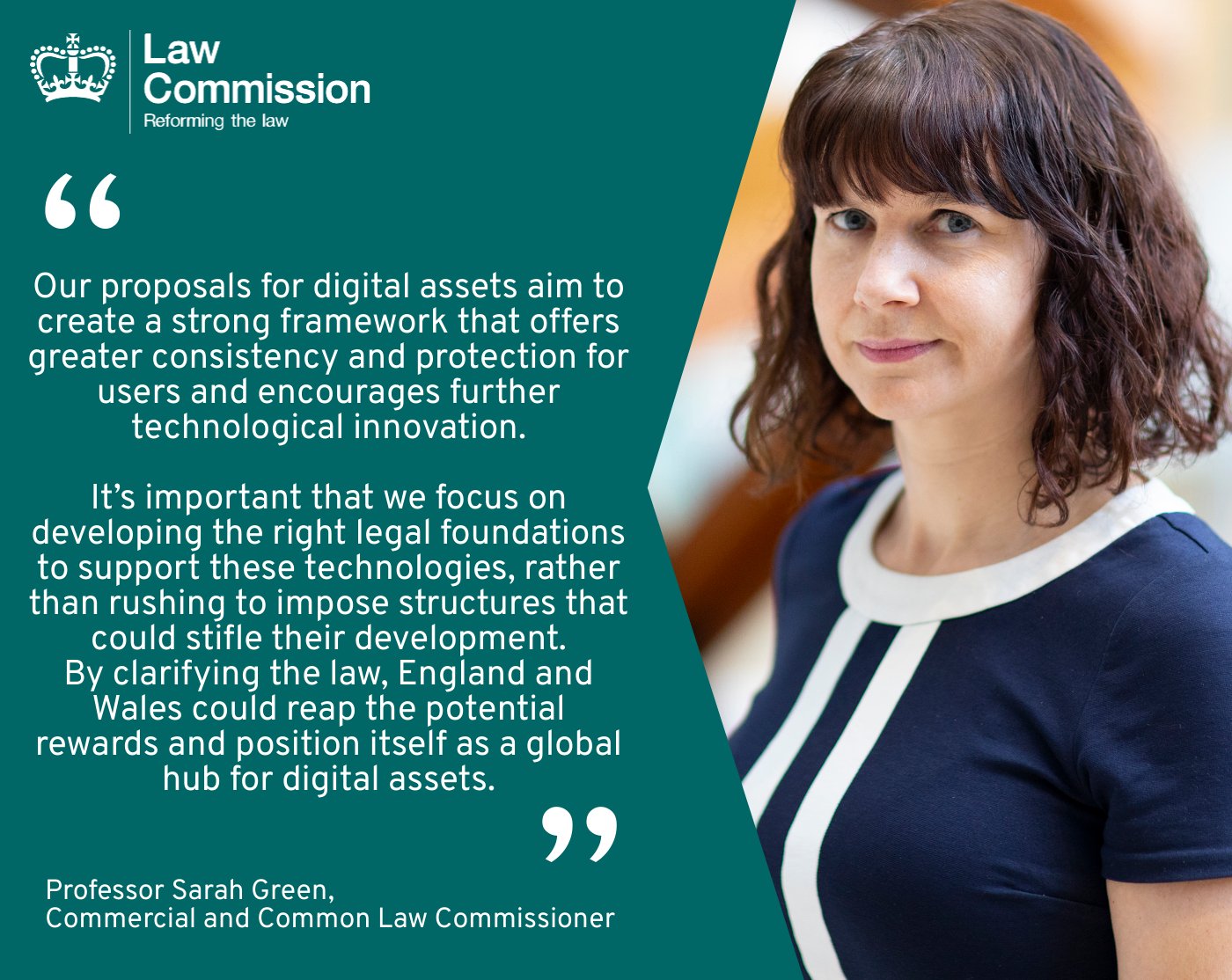 Our proposals are designed to ensure that the law remains dynamic, highly competitive, and flexible, so that it can support transactions and other arrangements involving the technology. The reforms also aim to help to achieve the Government's stated goal of England and Wales becoming a global hub for digital assets.
A shorter summary of the consultation paper is also available. 
Responses to the consultation 
We may publish or disclose information you provide us in response to this consultation, including personal information. For more information on how we consult and how we may use responses to the consultation, please see page ii of the consultation paper.
For information about how we handle your personal data, please see our privacy notice.
Lecture / Talk Details
Type
Consultation events
Date
26 October 2022
Topic
Digital assets